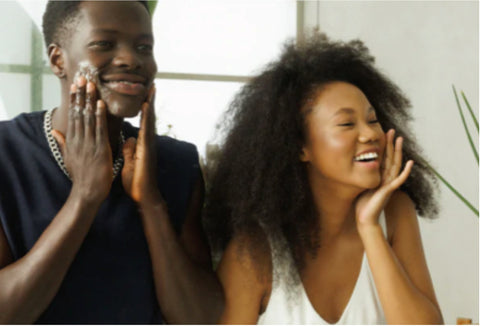 There's obviously a clear difference in men and women's skincare products, but when you really get down to it, is there that much of a difference? The answer is YES, there is a world of a difference in the products just off of the things that men and women's skin needs, alone. 
There are many factors in what makes men and women's skin different, a few of which is: men's skin is 25% thicker due to higher collagen content. Second, the oil glands in men are more active, allowing for greater innate moisturization over the adult years. The aging process is more gradual from a young age in men, whereas women's skin maintains thickness and moisture content consistently until menopause, when decreasing estrogen levels cause dramatic changes.
Women's products focus more on moisturization than men's, in an attempt to compensate for their lower sebum production women are more likely to experience adult acne from hormonal changes, many women's products often account for that by including exfoliants, calming and acne-fighting ingredients in the formulations.
When speaking of the difference between male and female skin care products, the first thing we need to consider is facial hair.
On average, men spend 10 hours more in the sun per week

Men are less likely to wear sunscreen than women

Women are more diligent about checking their skin for abnormalities and visiting the doctor for regular checkups
The best time to start using men's skin care products was yesterday. The second best time is today. Especially for my fellas: we know your last concern is your skin, but it should be your top priority. YELLE Skincare's Brave collection caters to the everyday man. Our No More Grit Scrub is a daily or weekly scrub that unclogs the pores of each and every hair follicle. The end result is that your post-shaven face is smooth, clear and irritation free. The smell is light,  clean, fresh and sharp, with
We've developed every men's skin care product with optimal health in mind and a subscription option so that you never have to worry about running low on products.