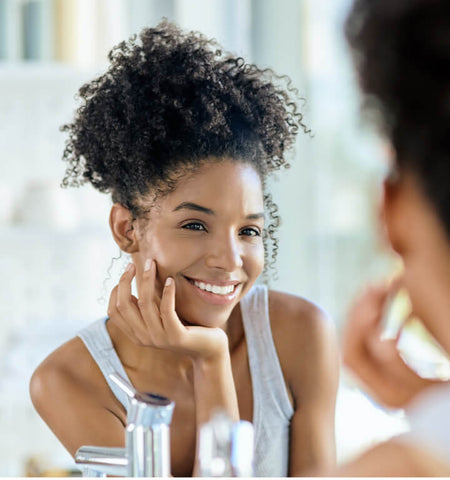 Whether you're off to college, back at the office or doing the morning school run, life's about to get busy. But don't let your skin suffer; just 10 minutes is all it takes to get your skin ready to face the world again.
With the start of new beginnings comes the stress of juggling your morning skincare routine. And when time is of the essence, spending 30 minutes looking after yours truly is often the first thing to go. But your skin shouldn't suffer simply because you have a million other things to do before getting out of the house by 8 am. You just need to hone your morning routine to maximize your time. Everything you need to power up for your day is included in our YELLE FRESH START Kit. 
STEP 1: THE 2-MINUTE CLEANSE
Start strong by spending a good two minutes cleansing your face and neck. You shouldn't have too much grime to contend with after washing your face before bed, but still, cleansing is a great way to boost blood flow and lymphatic drainage to bring oxygen and nutrients to your skin while flushing away toxins.
STEP 2: MASK UP FOR THE DAY
Don't forget to mask up, literally. Using your mask, whether it's to address acne or to mattify, is the speediest step of all and a great way to thoroughly cleanse your skin and feed it with nutrients and antioxidants. Let your mask sit for 5 minutes while you brush your teeth or get dressed then wash it right away. 
STEP 3: MULTI-TASK FOR ONE AND A HALF
OK, now's the time to breathe and relax for a couple of minutes to allow your mask to dry and face to absorb the nutrients. This is super important if you don't want to end up with pilling – that's when too many products build up on the surface of your skin and form annoying little flakes or granules.