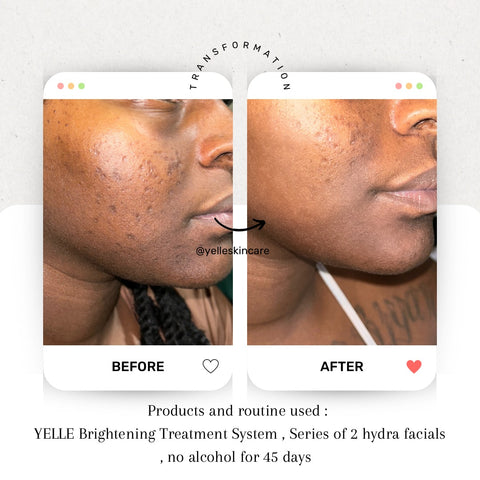 Are you struggling to tell the difference between Dark Spots and Hyperpigmentation? Trust, there's a difference and sometimes you can actually have both. Let's comb through those differences. 
Melasma (affectionately called "Dark Spots") is a primary pigmentary disorder, which means melasma presents with gradual pigmentation of the skin without another cause. Melasma typically presents with symmetric tan to brown flat patches on the forehead, cheeks, and/or upper lip. Melasma does not itch or burn and it does not have any overlying scaling, pimples, or pustules.
While Hyperpigmentation is: "excess pigment" – to be a little more specific, it means pigmentation above your normal background color.
Melasma and hyperpigmentation are similar to the square and rectangle relationship. Melasma is a specific form of hyperpigmentation that commonly presents on the face of women of reproductive age.
However, not all forms of hyperpigmentation are melasma.
Let's dissect Hyperpigmentation and their different forms: 
Primary pigmentary disorders: In the same way that some are predisposed to developing skin conditions like eczema and acne, others are predisposed to developing pigmentation of the skin. In primary pigmentary disorders, hyperpigmentation occurs without any other symptoms. Melasma is one of the most common primary pigmentary conditions. 
Post-inflammatory hyperpigmentation: In skin that tans easily, any type of inflammation of the skin may resolve with hyperpigmentation. This hyperpigmentation is not permanent, but it may last several weeks to months depending on the site. Acne and eczema are some of the most common causes of post-inflammatory hyperpigmentation.
Sun-induced hyperpigmentation: The sun's ability to cause wrinkles over time is generally known, but there is less awareness about the sun's ability to cause redness and pigmentation of the skin over time. In my experience, this typically presents with sunspots and background, faint hyperpigmentation.
Now the difference in Melasma is that it usually comes with Increased estrogen levels, so it commonly presents in females on birth control and/or during pregnancy. However, it can occur in women without these triggers and in even in men. It is more common in Asian, Hispanic, and African-American skin tones but occurs in all skin tones.
Sunlight is a trigger for melasma, so melasma tends to flare in the summer months and/or during sunny vacations and naturally improve in the winter.
How to tell the difference in "Dark Spots" and Hyperpigmentation:
"Dark Spots" aka Melasma can be differentiated from post-inflammatory hyperpigmentation by the lack of a preceding rash and the symmetric nature of melasma. Itching of the skin suggests post-inflammatory hyperpigmentation from an eczema-like rash. The presence of pimples and/or pustules suggests post-inflammatory hyperpigmentation from acne.
The Takeaway:
"Dark Spots" aka Melasma and hyperpigmentation are cousins —all melasma is a form of hyperpigmentation, but not all hyperpigmentation is melasma. Three main forms of hyperpigmentation are primary pigmentary disorders, post-inflammatory hyperpigmentation, and sun-induced hyperpigmentation. Each has individual causes, presentations, and treatments, but diligent sun protection, pigment regulating topicals, and careful use of peels and lasers may improve all three.
If you are trying to decide what problems you're facing, and still can't tell the difference in your skin symptoms, consider seeing a professional or a dermatologist to have your skin examined for more insight on your skin's health. Then head over to grab our Blemish Away Mask or our Fresh Start System to heal and restore your skin's natural tone and color with gentle and plant-based ingredients.