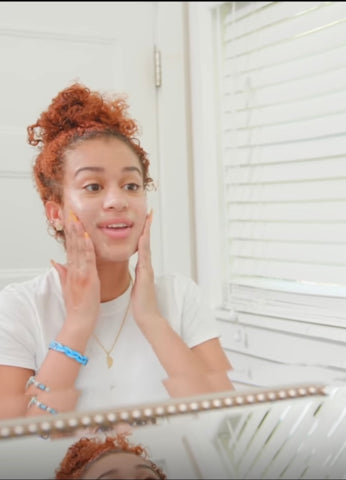 Teens really are quite amazing, considering they're dealing with the pressures of school, sports, friends, navigating the new dating world and handling their jobs and at-home responsibilities. And in the middle of all of this action and anxiety is one of the greatest stressors of all: teen skin issues. If your teen is dealing with acne, he or she has to face every day wishing for a different, better, flawless face, and perhaps shrinking away from his or her full potential.
Skin Condition: Acne
As teens grow, their bodies and hormones change. When hormone levels rise, teens' skin can react in a number of ways. It might be the start of the occasional pimple popping up here and there, or it might be far more than a breakout, with the chronic condition acne generating teen acne, with all of its whiteheads, blackheads and pus-filled bumps, far from the smooth, flawless face teens want. Teens' cheeks and forehead are the most common spots for teen acne, but the jawline is also a top spot for teen acne to occur.
Using a complete system like YELLE's Fresh Start Collection helps set a routine standard for your teen and gives them the healthy balance with proper ingredients to avoid acne outbreaks. 
Skin Condition: Oily Skin
When a teen's skin reacts to hormones, one of the possible results is having skin that is too oily. This may or may not result in pimples or teen acne, but either way, teens don't want an ultra-shiny face.
Visit with your dermatologist for an assessment of your teen's oily skin condition, and to explore treatments for oily skin. Having a sound understanding of what your teen's skin is doing gives you the basis for what products you should be using. If your teen does have acne, our mattifying mask is perfect for combatting an excess of oils to keep the dreaded shiny face at bay. Be sure to advise your child not to over-wash his or her face, thinking it will clear away all the oils. The skin needs some protective oils, and over-stripping them will do more harm than good.
Skin Condition: Eczema 
While eczema is completely a 'gut health' issue, it makes it's appearances in many areas that causes additional irritants. Eczema appears as patches of dry, scaly, red skin. For many teens, it can show up in the most irritating areas. Does your teen play sports? When their skin is aggravated by sporting equipment, eczema can occur on knees or ankles where sports gear rubs them a lot during a game and practices.
Talk to your dermatologist about treatments for eczema in teens, and also consider speaking to a nutritionist about a healthy alternative to keep flare ups away. Using gentle ingredients is the safest way to treat Eczema prone skin, and that's a good thing because our entire Fresh Start collection is completely gentle and plant-based.
If you're loving your Fresh Start collection, #Tag us in