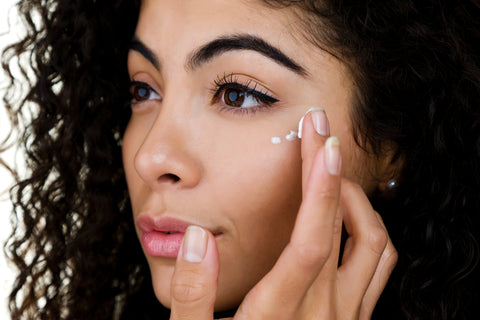 As we age the skin around the eyes begins to lose elasticity and breaks down. Air pollution, sleep deprivation and poor nutrition are all additional factors that contribute to changes in the eye area. As a result of these intrinsic and extrinsic factors wrinkles, puffiness, and dark circles begin appearing the area surrounding the eyes. If you are interested in improving the skin around your eyes, and want to counteract the signs of aging, read our insights below on how to have eyes that are more glowing and radiant.

Do I really need an eye cream?
The YELLE beauty team of experts says YES to eye cream. Moisturizers are not anti-aging treatments and some anti-aging treatments are not suitable to for the area surrounding the eye. If you are interested in improving the appearance of your eyes you need to use a product specifically formulated for the area. While some experts weigh in differently on the matter we know for a fact the area surrounding the eyes is more prone to the visible signs of aging. Targeting this area we believe with specialized preventative care is vital to enhancing the radiance of an individual's eyes.
Use an eye cream with ingredients that work
To repair the area surrounding the eye it is important to use an eye cream with ingredients that work. Collagen stimulating ingredients, peptides, vitamin C, hyaluronic acid and even retinol are all ingredients that stimulate the area surrounding the eye area and promote change. Our ADREAM Brightening Eye Cream utilizes high strength and highly effective peptides that attack fine lines and wrinkles, promotes collagen synthesis, and brighten the eye area.
Beyond Eye Creams
Blepharoplasty is one of the most common surgical procedures performed by plastic surgeons to correct imperfections around the eyes. The procedure involves removing excess skin, muscle and fat and is usually performed as an in and out procedure though patients typically miss up to five days from work. Restylane and Juviderm cosmetic fillers can also be used to treat under eye bags and camouflage darkness to reduce the appearance of mild puffiness. A good quality eye cream is usually recommended afterwards to encourage healing.
Try Microcurrent
Microcurrent stimulates muscles and sends gentle waves through the skin to tone and lift the areas where it is applied. Many handheld microcurrent devices for at home use are on the market today and allow individuals to experience advanced result. Most at home treatments last for 3-5 minutes are virtually pain free and enhance the benefits of using a good eye cream.
When it comes to addressing the eye area prevention is everything. Gently apply our ADREAM eye cream with your ring finger and use daily for best results.
Written by Regina Tucker