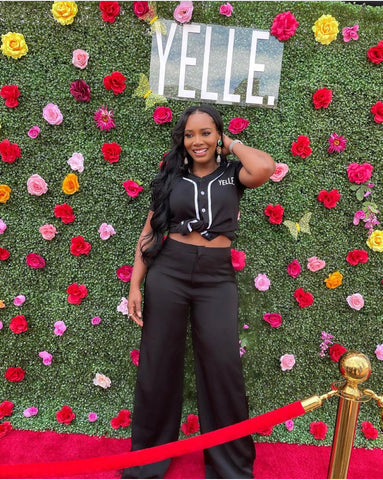 If the pandemic didn't show us anything else … it definitely showed us that tomorrow isn't promised and we must live in "the now!" With that said, YELLE Skincare is taking over for the "99s and 2000s". Lol! 
We have so much in store for our loyal customers, and we can't wait to share everything with you. 
If you missed out on the HUGE announcement of our brand new location in Atlanta at the historical Underground. Then you've missed out on something major. But that's ok! You can visit our brand new location Monday through Friday between the hours of 11am to 7pm. So if you're in Atlanta, pull up on us! There are great deals in store, only! 
In addition to the new location opening, our founder, Yandy Smith-Harris has been busy in the lab developing new products for the entire family. First up, our new TEEN Collection. 
Give your teen a fresh start with their skin health with YELLE's new Fresh Start collection, specifically targeted for growing and puberty-prone skin. Our children need to know how to properly care for their skin so that they can prevent the many skin problems that we had growing up. This four-step skincare system is perfect for creating a daily routine that is low maintenance for even the busiest teen, and effective for the most irritating breakout that we've all experienced during those teenage years.
Set your teen up for success with a simple step-by-step skincare regiment that makes caring for your skin easy and enjoyable. 
What it includes:
   

Milk and Honey Cleanser – Gently created for even the most sensitive skin

   

Blemish Away Mask – To fight off and keep dark spots and blemishes at bay

   

Mattify Mask – To tone your skin preventing unwanted break outs and excessive oil buildup

   

Daily Moisturizer – Bring moisture back into your skin for nourishment and a glow like no other
Just when you thought it couldn't get any better, we're bringing the heat with our hot new men's collection. 
Yandy knew how important it was to create something for the fellas when her own hubby Mendeecees raided her own skincare collection. That's when YELLE. BRAVE came to fruition. 
This men's collection is a complete system with everything your favorite gentleman needs to put his best skin forward. Power-packed with the freshest ingredients, the man in your life will have skin polished like a god. 
What it includes:
   

Milk and Honey Cleanser – Gentle and effective for even the grungiest skin

   

No More Grit Scrub – Created to exfoliate the toughest part of your day away

   

Smooth and Clean Aftershave – Exactly what you need to have that smooth after-shave feeling

   

Daily Moisturizer – Because every true gentleman should have nourished skin 
YELLE is literally changing the game with these new products. If you haven't already, run set your alerts on Instagram now, so that you don't miss out on any new details about these products launching.