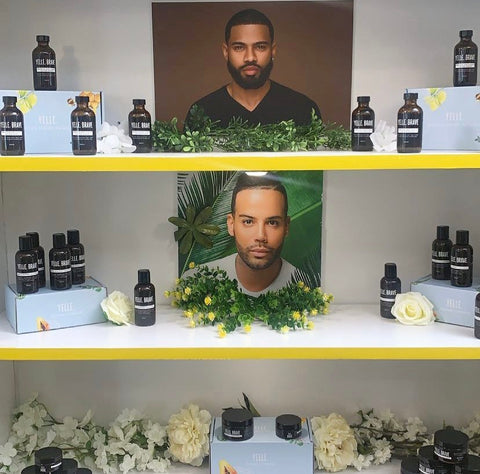 Father's Day is a great excuse to convince dad to update his skincare routine. Historically, men might not have been as diligent about skin care as women, but that's slowly starting to change. More and more, men are realizing they aren't immune to all the pollution and sun damage and they know that they need to up their skincare game. 
So if you're looking for a nontraditional gift for the special dad in your life … give YELLE Skincare's Brave collection a try. 
What's so special about the BRAVE collection? Let's dig in:
The Milk and Honey Cleanser … with a twist:
Sure the Milk and Honey Cleanser is a signature for YELLE Skincare, but the Brave collection's version has a little more that every man's skin needs. Infused with aloe it calms and soothes even the most irritated skin that encounters rough activity like our fellas. It's power-packed with chamomile, honey, and jojoba oil, which are ingredients that are known to calm, soothe and cleanse the skin. 
The No More Grit Scrub … 
The truth is, men like scrubs. It's something about the texture that makes them feel like they are taking off all of the grit … but YELLE's No More Grit Scrub, removes all of the build up on your skin, giving you a clean slate to build the foundation of your skincare routine. 
The Smoothe and Clean After Shave …
There's absolutely no way our very own Yandy Smith could develop a men's skincare line without thinking about after shave … afterall she loves smooth and bright skin (take note from MDC). Say no to razor bumps with this plant-based after shave formula that is gentle enough for even the most sensitive skin, but effective enough to protect you from any razor bump outbreak. 
The Signature Daily Moisturizer …
It's simple, YELLE Skin Care is helping the bravest men put their best face forward with moisturized skin that stays moisturized all day long. Brave collection's Signature Daily Moisturizer is filled with antioxidants that can ensure well moisturized skin. A lot of men are unaware that their skin still needs moisture, despite having oily or combination skin. So having a routined daily moisturizer is a must to keep your Brave skin in tiptop shape. 
At YELLE Skincare, we don't like to overcomplicate things. We know that men like a simple routine that is low-maintenance and easy to use. We aim to keep the home-skincare simple with an easy to follow system.