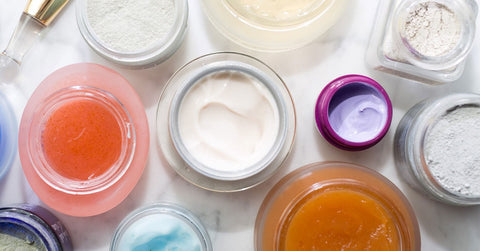 One of the most common questions we see is, how do you switch your skincare routine? While change is good, some skincare changes need to be strategically planned to minimize the possibility of a bad reaction.
So really, how bad is it to switch up your skincare products?
The answer, it can be bad, and can result in slowing down the process of your skincare health. But sometimes we have to go through the ugly to get to the good.
If you're using products with bad ingredients, then you may want to consider making the switch to a cleaner skincare system. While switching your system can be hard, YELLE has a few tips that will make it easier:
   

Consider switching your skincare products when you've found you're life is easy-going, not when you have a ton of things going on. So if you're already impacted by stressors (moving, starting a new job, getting married, having a baby, or anything else life-altering) we would encourage you not to make the switch just yet.

   

Introduce a little at a time. Instead of completely switching all at once we encourage you to introduce new products one at a time until you've completely switched over.

   

Let your skin adjust. As your skin tries new products, your skin will react to the new ingredients you've introduced. Allow time for your skin to adjust before you make your final decision on whether or not you should keep or let go of the product.
Now that you know how to switch, let's discuss what bad product ingredients you should break up with:
   

Parabens – Run Sis! Parabens are a whole family of chemicals that help preserve shelf-life on products. This is one of the most common offenders for toxic ingredients. These chemicals have been linked to breast cancer and can stimulate hormonal disruptors throwing off reproduction and fertility issues.

   

Phthalates – This chemical is supposed to increase the flexibility of plastics in cosmetics helping the product stick and adhere to our skin. The problem is, who wants to wear plastic? No thanks, trash it!

   

Inorganic fragrance – What's most terrifying about inorganic fragrance is that it is considered a 'trade secret' meaning, companies don't have to disclose what ingredients are inside of the scent. Since we don't know what's really in it, we sure stay far away from it

   

Lead – we are all familiar with Lead, but surprisingly it's in a lot of skincare brands! It can cause serious behavorial setbacks and can even lower your IQ. While it's already been removed from things like paint and gas, it's still floating around in some of the products we put on our skin.
One of the most important promises that YELLE Skincare makes is to deliver plant-based products that are safe and gentle on our precious skin. If you're looking to learn more about the safe ingredients that we use at YELLE Skincare you can learn everything you need to know HERE (Link: https://yelleskincare.com/pages/ingredient-list)
While making the switch can seem overwhelming, YELLE has made it easy for you. We've bundled all of our skincare needs into complete systems
Whether you need to give your skin intense treatment, addressing acne and problem areas (https://yelleskincare.com/products/the-treatment-system), you're looking to give your skincare an overall indulgence of the complete key ingredients it needs to thrive (https://yelleskincare.com/products/the-treatment-system), or you're looking to just maintain the healthy habits you've created (https://yelleskincare.com/products/the-essential-kit)
YELLE has everything you need to embark on a safe-ingredient through plant-based products journey!