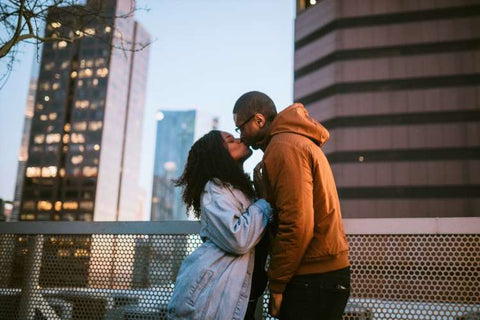 Plan A Date Night With Index Cards
Serious question: have you secured Valentine's Day plans? I know it's tough … it's in the middle of the week, life is lifing, but sis –you need to get to planning, and fellas we need you to show out, too! 
If you're still on the struggle bus with plans, we got you. 
Keeping the spice in your love life can be tough, especially during colder months where you don't necessarily get out as much. Nonetheless, it's important to keep dating your partner. When we saw the new TikTok trend about the #IndexCardChallenge we knew we wanted to join in on the fun and so should you.
What is the Index Card Challenge? 
Simply put it's a playful and fun game that allows couples to explore new things with each other outside of the norm. Whoever is planning date night will write out a few suggestions on an index card, making it even so that your partner can pick which card he or she wants to choose from. 
Once you write out those cards, bring them along for the entire date and continuously let your partner pick from two cards to determine what you all are doing next. 
Here's where it gets fun: not everything should be romantic; some items can be pure comedy, and others can be super sentimental. Having a variety of options makes things fun for the duration of the challenge. Here are some of our favorite card commands: 
Card One: Starbucks vs Cook Breakfast From Scratch
Card Two: Movie Date vs Road Trip
Card Three: Spa Day In with YELLE Skin Care vs Private Chef
Card Four: Bubble Bath vs Go To Sleep Early
As you can see, the possibilities are endless. It's up to you to put your spin on the date night experience and create cards that cater to your special person's wishes. 
If you're interested in a Spa Day with YELLE products, Here's a rundown of what you need to have fun: 
THE AWAKENING COMPLETE 5 PIECE SYSTEM
Awakening Milk & Honey Cleanser 4oz.

Awakening Milk & Honey Toner 4oz.

Awakening Daily Moisturizer 2oz.

A-Dream Brightening Eye Cream 1oz.

And One (1) Treatment Serum 1oz.