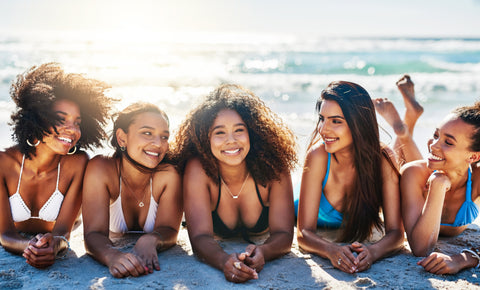 During the summer months it is not unusual for the skin to experience seasonal changes. With the sun shining brightly and the humidity ablaze, the skin can really take a beating, leaving you having to engage in damage control against everything from sunburn to acne. Here, our YELLE beauty team explains how to fight summer skin issues so that you can keep your skin in excellent shape this season.
Acne breakouts
We tend to spend more time outdoors during the summer and the mixture of sweat, bacteria, and oils on your skin, can clog your pores and lead to breakout. Make sure to keep a clean towel or cloth handy to wipe away sweat, keep your hats and headbands clean and use our Awakening Brightening Serum for Oily Skin at night to help control acne breakouts and prevent clogged pores.
Chlorine Overload
Time in the pool can leave the skin dry and irritated. Remember to shower and cleanse your face immediately after a dip in the pool. After swimming, use our YELLE Milk and Honey Cleanser to cleanse the face, rinse with fresh warm water, and immediately after rinsing apply our Awakening Daily Moisturizer onto damp skin to trap water into your skin.
Sunburn
The key to sunburn is PREVENTION. Relax in the shade, wear a wide brimmed hat, and apply and reapply your favorite sunscreen while spending time outdoors. Remember you must reapply sunscreen every two hours to protect it from the sun's damaging ultraviolet rays. The American Academy of Dermatology recommends  individuals to treat sunburn as soon as you notice it, get out of the sun, and use a moisturizer that contains aloe vera to help soothe the area. Our team recommends our YELLE Awakening Milk and Honey Toner made with aloe, rose hip oil, and hyaluronic acid. It can help refresh and restore sunburned skin.
Bikini Line Blues
Irritation along the bikini line after waxing is not uncommon. Most individuals begin to experience irritation 2-3 weeks after an initial waxing. As the hair begins to grow back the skin becomes itchy and tender creating discomfort on the skin. Fight hair growth with this quick tip using our YELLE Awakening Milk and Honey Cleanser. Mix cleanser with a touch of brown sugar and exfoliate in small circular motions along the bikini line for gentle exfoliation and to keep the bikini line free of ingrown hairs.
Don't forget to pack your favorite YELLE skincare products in your beach bag as you head out this summer. Shop our individual products to address summer skin concerns or purchase one of our complete skin care systems to start you complete skincare regimen.
Written by Regina Tucker